7 Underrated Sitcoms in Netflix To Binge When You're Stuck at Home
Let's be honest, this just isn't a good year. A lot of bad things have happened in our country and around the world, one after the other. There hasn't been a single break from the bad news broadcasting in television or spreading around in social media. And as we need the upcoming summer vacation to get a time-out or get away from all of these problems, we are on lock-down. All trips, events and plans are canceled and we are all advised to stay home until further notice.
It's depressing to be isolated away from your friends and the outside world. You can only stare at the ceiling for so long before going out of your mind. During a time like this, we should be optimistic and hopeful that things will get better. We might have to stay indoors, but we can still take our minds on a vacation. Let's settle in and dive deep into the world of Situational Comedy or Sitcoms. Nothing can make staying at home more fun than binging an awesome sitcom and having a good laugh.
Sitcoms like Friends, How I Met Your Mother, The Big Bang Theory and Brooklyn Nine-Nine are great, but I'm sure most of you have already watched them. Some may have even watched entire seasons of a series a couple of times over and never get tired of them. They're good and I agree with you. But come on, isn't it time for something new?
For this week's blog, we're listing down 7 Underrated Sitcoms in Netflix that you should definitely watch while you're stuck at home for the time being. You may have seen these show's posters around Netflix, but let me be the one to convince you on finally giving them a try. (The sitcom names are hyperlinked so just click on them and get to watching!)
Due to an error, self-absorbed Eleanor Shellstrop arrives at the Good Place after her death. Determined to stay, she tries to become a better person.
This is an unusual sitcom that would take watching a couple of episodes first to get used to. It's odd and unconventional, and very out of the box. It is definitely one of the best ones out there. Also,I'm sure you'll as shocked as I was from the plot twist that's waiting for you. And guess what? The show only gets better after that! Incredible.
Gay lawyer Will and his roommate Grace look for Mr. Right with help from their witty sidekicks, boozy assistant Karen and unemployed entertainer Jack.
I instantly fell in love with this sitcom after watching the first episode because I related so much to the dynamic of Will and Grace. I've had such clingy and dependent relationships with a few of my girl friends. This was one of the first shows featuring a gay lead and the show only proves how so much fun your life would be with more gay people in it. Hahaha! The first two seasons are the best if you ask me.
Sisters D.J., Stephanie and Michelle grow up with three devoted father figures: their widowed dad, his goofy best friend and their cool uncle.
Now, this is an old-ass sitcom. It's light, full of heart and just some good old family fun. If you're a big family living in one house like we do, you'll definitely relate to this. There is a simplicity to this show that you kind of miss from the new shows being aired in the recent years. I also got to see all the girls grow up throughout several seasons of the show, especially Mary-Kate and Ashley Olsen who started the show when they were babies sharing the role of "Michelle".
They're not friends, but when their husbands leave them for each other, proper Grace and eccentric Frankie begin to bond in this Emmy-nominated series.
I didn't think i would grow liking this show, but I did. Grace and Frankie and are total opposites, but it's their difference that complements each other. They also have such an admirable relationship of being by each other's side no matter how big or hilarious of a mess they're into. I also gained a lot of insight about the elderly watching this show and how age doesn't define you and what you can still do. Rock on!
Alexa is battling cancer. But with her best friend, Katie, by her side, she's also starting high school -- and ready for whatever comes next.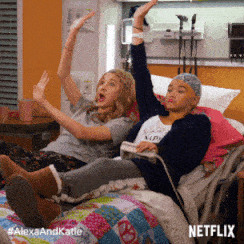 This is one of the more kid-friendly sitcoms on my list. Even if these girls are in a PG-version of high school, I didn't find it corny at all. The show is still very funny and also heartfelt. Katie is there for Alexa as she fights cancer and Alexa is their for Katie as she has her own struggles. This just makes you really appreciate the friends you have in your life. Girl Power!
When a woman is rescued from a doomsday cult and lands in New York City, she must navigate a world she didn't think even existed anymore.
This is another wacky sitcom, with kind of a troubling plot. I am really impressed how they were still able to address the trauma that Kimmy had throughout the show while keeping things funny and very sunshine-positive. You never really know what you're going to expect with this show and that's what makes it really fun.
In a re-imagining of the TV classic, a newly single Latina mother raises her teen daughter and tween son with the "help" of her old-school mom
It sucked so much when this sitcom got cancelled after it's third season. There was so much more to tell about these characters' stories. This is a really underrated sitcom that people should definitely watch. The comedy can be a bit forced in a few areas, but the story-lines are great. The type of representation in the show and the important topics and messages it raises is something that everyone should see.


What are you waiting for? Get to watching!
That's it! I hope you guys enjoy any of the shows you choose to try this quarantine period. These shows are just a few that I've watched and really liked enough to recommend. Please let me know if you have other sitcoms or show I could try and watch in Netflix. I'm always in the lookout for something new and exciting. Let's not get bored, okay? There's plenty of stuff to do at home and plenty of show to watch, I'm sure.
Bonus tip if you want your life to be a lot more fun, I super recommend you to watch Rupaul's Drag Race in Netflix. It's not a sitcom, but a reality competition show about Drag Queens that will leave you gagging and thirsty for more. Trust me, it will change your mother-tucking life. Hahaha.
Personally, having that perfect show gives me such comfort knowing I can look forward to watching something amazing after a heck of a day. We can get through this together and before we know it, we will be free once again to go out and explore the world. Let's support one another and pray for the betterment of our world, okay? God bless us all!
Share this post to Facebook or Twitter and
Tag your wonderful friends!